Chances are you've already looked up stuff like "The Most IG-worthy Places in Hong Kong," "Twenty Must-See Hong Kong Attractions," or "The Best Places to Eat When in Hong Kong," so I'll be skipping those tired topics and jumping right ahead to a couple of things I've learned based on my previous trips in the city.
1. Buying a SIM card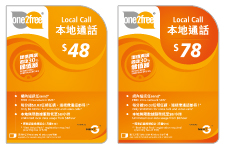 You can buy a prepaid SIM card from the airport's 7-Eleven and other convenience stores. They sell cheap prepaid SIM cards there. I bought one that was valid for 5 days for only HK$48. (The guy at 1O1O tried to sell me one for HK$132, claiming it was the cheapest they had and for the shortest period of validity, what a rip-off.)
When buying a SIM card, here are a few things you should consider:
Do's and Don't's: 
DO NOT SPEND YOUR MONEY ON NETWORK-PROVIDED CALLS AND TEXTS:  You can get about 2GB of mobile data for 3-5 days for HK$38.
DO  make use of social media apps that offer free calls, video calls and messaging services instead.
DO NOT waste your data watching useless videos. Assuming that you don't spend your vacation holed up in your hotel room watching videos of cute babies/animals, I bet that's more than enough to last you for a week!
DO know which SIM card you are getting. There are instances when the seller won't tell you that the SIM card they're selling you is for China/Macau roaming.
DO gauge how much mobile data you'll need by considering (1) the length of your stay and (2) your mobile data needs
Click on the links to  compare the included packages and rates for the Hong Kong tourist prepaid SIM and China-HK-Macau travel SIM cards or click here to be redirected to csl's official website.
2. Invest in an Octopus card
Having a wallet is so passé. The Hong Kong Octopus Card is ubiquitous around Hong Kong, with almost all residents carrying one. This handy piece of plastic has become an essential part of their lifestyle. With a "doot," you can pay for various modes of public transportation, fast food restaurants, self-serving vending machines, 7-Eleven impulse buys…pretty much anything.
Just tap your card over the card reader and your payment will automatically be deducted. You're allowed to go overdrawn by a maximum of HK$50. The outstanding debit will be calculated and deducted the next time you reload.
You can reload your Octopus card with cash or credit card at the MTR / Light Rail / Selected Add Value Machines, Airport Express Line, Citybus and most of the retail outlets that accept Octopus payment. To check your remaining balance, use the signed machines inside MTR stations or look at the bottom of your receipt when you purchase using your Octopus. You can also top up through select NFC enabled Android devices.
Having an Octopus card saves you the hassle of having to line up to purchase a ticket every time you ride the MTR. Additionally, Octopus fares are sometimes 5% to 10% cheaper than ordinary fares on most trips made on the MTR. This may not seem like a lot, but the accumulated savings are significant if you're planning to stay in Hong Kong for a long period of time or if you're returning to Hong Kong frequently.
There are various types of Octopus cards available and some even come in tiny, SIM card-sized chips that can be dangled on bracelets like lucky charms. I'm tempted to buy all the Octopus ornaments for myself when I go back HAHAH.
Unarguably, the best types for visitors include Sold Tourist Octopus card at HK$39 and the On-loan Octopus card with a refundable deposit of HK$50. The Sold Tourist Octopus card is for adults and is priced at HK$39 without initial stored value. No initial deposit is required and the remaining value can be refunded but the Octopus will be deactivated.
Click here to use the Store Locator to find the nearest convenience store where you can buy  a Tourist Octopus card or click here to buy one online.
There are three card types of Standard On-Loan Octopus available: Adult (the one I use), Child (for kids from ages 3-11, but I used this until I hit 13 LOL.) and Elder.  The refundable HK$50 deposit covers the cost of the card and ensures uninterrupted Octopus service in case you hit a negative value.
You can get one from any of the following authorized distribution outlets of Standard Octopus cards:
MTR Customer Service Centres: All stations (except Racecourse station)
Light Rail Customer Service Centres: Ferry Pier Terminus, Leung King, Town Centre, Yuen Long Terminus and Tin Yat stations
First Ferry Customer and Octopus Service Centres: Cheung Chau Pier, Mui Wo Pier, Central Pier 5 & Central Pier 6
KMB Lok Ma Chau Ticketing Office
Getting A Refund
If you have some balance left in your Octopus at the end of your trip, you can keep your card for your next visit like what I do. Otherwise, to get your money back, go to any MTR Customer Service Center (located at all MTR stations, including the airport) and hand over your Octopus card. A refund handling fee of $HK7 will be charged if you return the undamaged On-loan Octopus less than 90 days from the date of issue and you'll get an on-the-spot refund, plus your initial HK$50 deposit, if your remaining balance is less than HK$500.
3. Commute
Hong Kong has one of the world's safest, most efficient and frequent public transport systems. The city is so compact, and its public transportation system extensive; there are tons of ways to get around Hong Kong: rail, bus, taxi, tram, or ferry. Let's break it down one by one.
Mass Transit Railway (MTR)
The MTR in Hong Kong is the quickest way to get around the city. Trains run every 2-14 minutes from 6 AM to around midnight or 1 AM. When riding the MTR, avoid rush hours! It can get very crowded during the commuting rush hours of 7:30 AM to 9:30 AM and 5 PM to 7 PM on weekdays.
Download the MTR Mobile app—I can't even begin to describe how this app has saved me during my commutes (because I have no sense of direction and tend to get lost easily ehe). You can input your starting point and destination and the app shows you all the possible train routes you can take.
BUSES
They're slightly cheaper than the MTR, and are a great way to get around town while getting fabulous view as well. Hong Kong buses are self-service, meaning you'll never be given change. Make sure you always carry around lots of HK$1's and HK$2's (if you pay in cash).
There are two kinds of bus in Hong Kong, the giant double-decker bus and the minibus. Most buses are double-decker, try to score a seat up top for a full view of the streets!  If you wanna alight, you have to press a small button near the exit at least 5 seconds before the bus reaches the bus stop. Minibuses, on the other hand, are either green or red. The green minibuses run along specific routes and charge fixed prices. Unlike larger buses, many of the minis might not have a button to press that signals you'd like to get off, so make sure to shout extra loud to the driver to let him know that your stop is coming up. Once the minibus is full, it doesn't stop to pick up more passengers until someone alights. Most minibus drivers very little to no English, so this method of travel can be a challenge for tourists.
TAXI
Taxis in Hong Kong are color coded: red, green and blue. They differ in the districts they serve. It's a common misconception that taxis in Hong Kong are expensive, but they only charge a flat rate between HK$17 to HK$22, depending on the type of taxi, and less than HK$2 for every 200 meters after the first 2 km.
Most drivers can't speak English and can't understand the way we pronounce Chinese words in English. Before leaving your hotel, you can ask the receptionist to write your destination in Chinese on a piece of paper to give to your driver. Secondly, if you're carrying large suitcases, it's important to know that the driver will charge you around HK$5.00 for every baggage. Another thing, if the taxi is passing through a toll tunnel, you have to pay the driver twice the toll fee: this includes the driver's payment in returning to his starting point Lastly, let the driver know beforehand if you're paying in large bills like HK$500 or higher, as taxi drivers have the right to refuse to drive you if they don't have small denominations on hand. (Jk, on second thought, taxis in Hong Kong are kinda pricey HAHAH)
TRAM
Operated by Hong Kong Tramways, the trams run daily from early in the morning up until midnight. Riding the tram has always been the cheaper, albeit rather scenic way, to see most of the city. It takes you from the busy financial district to the quiet suburb side and lets you see more of the residential areas for just HK$2.30. There's no air conditioning so the ride can get really stuffy in the summer. Keep in mind that when boarding the tram, you need to get on from the back of the tram and get off at the front.
Before you start your commute, you can view this interactive map, which shows where the tram can take you to.
FERRY
Equally as iconic as the tram – perhaps more so – is the Hong Kong Star Ferry. You'll be saving dollars and no doubt a few photos too. The fare for a one-way trip is HK$2.5 per person on weekdays and Monday HK$3.4 per person during weekends and on public holidays.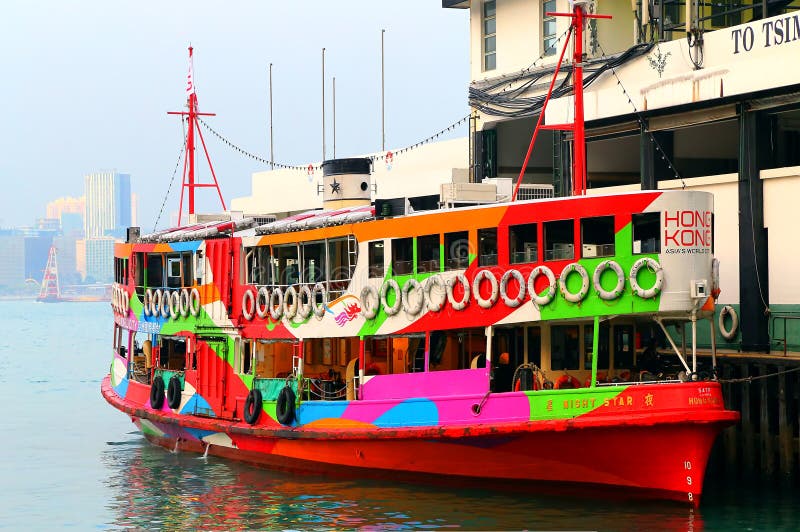 4. Do Some Walking
Explore! When in Hong Kong, you can *explore* virtually the entire city proper on foot, with signs translated in English everywhere directing you to popular tourist attractions. Put on your comfiest pair of sneakers and start walking. This stretch of public transit seriously gives you one of the best views of the city. Hong Kong's a tiny island and the crowd and unfamiliar streets may be intimidating for some, but heck I managed to walk back to my aunt's house from Wonderful Worlds (of Whampoa) without getting lost HAHAH. While walking, you get to experience the hubbub and the hustle of the Hong Kong crowd. Plus you get to burn all those calories you gained from eating all that dimsum.
View Joel's portfolio here Joel Fulgencio
5. Unpredictable Weather
Hong Kong is known for its unpredictable weather, while you can visit Hong Kong any time of the year, there are better and worse months to enjoy the city.
The best time of the year to visit Hong Kong is between the months of September and November: autumn months when there's plentiful sunshine, comfortable temperatures, and pleasant breezes.
Spring season in Hong Kong is characterized by misty and damp weather. The months of March to May can alternate between perfect days, cloudy days, and some that are already summer hot. Still, it's a wonderful time of the year to visit HK. Although it is highly advised to never ever ever leave without an umbrella with you, as there will be a sharp increase in rainfall around April.
The summer season between June and August is extremely hot and sunny with "instant-sweat" high humidity levels. This is probably the worst time of the year to visit HK.  Mag-baon din ng payong this time because thunderstorms are frequent and August is usually the wettest month of the year,
6. An Incredibly Fast-paced City
I have a feeling it's going to take some time to get used to the fast paced lifestyle in Hong Kong. Locals will give you the stink eye if you're walking too slow or blocking their way. People in Hong Kong tend to move fast, eat fast, talk fast, walk fast…case in point, everything is darn fast. That's not necessarily a bad thing, though. It also means your food is served fast, too! And I'm not talking about fast food restaurants like McDo or KFC, even real Hong Kong dishes like char siu, wanton noodles and all the yummy stuff you've been craving within 5-10 minutes!
In Other News
I was walking along the Central one day and my cousin pointed out a little hole in the wall where you could already spot the long queue from outside. It turns out—there's a freaking Shake Shack in Hong Kong.
YES, you read that right! In collaboration with local restaurant group Maxim's, the critically acclaimed East Coast burger joint has recently opened its first branch in Hong Kong last May 1st. You can expect 18 other locations covering HK, Macau and China included in its Great China expansion plan coming soon.
Shake Shack's first Hong Kong branch features its original menu—aside from that it even offers a few HK-exclusive items, including a milk tea shake—puppers and their hoomans can treat themselves to their signature modern American classics: their famous ShackBurger®, Shack-cago Dog®, classic crinkle-cut fries, beer, wine and frozen custard ice cream.
If you happen to be around the area, don't forget to drop by for a quick bite. Shake Shack is located at: Shop 4018, Podium Level 4,  IFC mall, 8 Finance Street, Central, HK.
A word of caution though, lines can get crazy long—but Shake Shack's totally worth the wait (and the weight), right?
To know more updates on Shake Shack Hong Kong, visit the following:  Shake Shack | Facebook | Instagram
When was the last time you went to Hong Kong? Do you happen to have some helpful tips you want to share? Restaurant recommendations? IG-worthy hidden gems? Feel free to drop by the comment section to discuss all this and more 🙂 If you liked this post kindly give it a like and/or share it so I know to make more related content.
Connect with me: Facebook | Twitter | Instagram | Snapchat | Bloglovin
---
Disclaimer: The rates provided above may change without prior notice. Be sure to check the rates and details directly with the companies and/or operators before planning your trip.